Ruben Ortiz
SENIOR ROUTE DRIVER
Commercial Accounts., mechanic,

Ruben has been with the
company since 1994,
longer then anyone else in company history!
He is more than our main driver, he is a cornerstone of the company...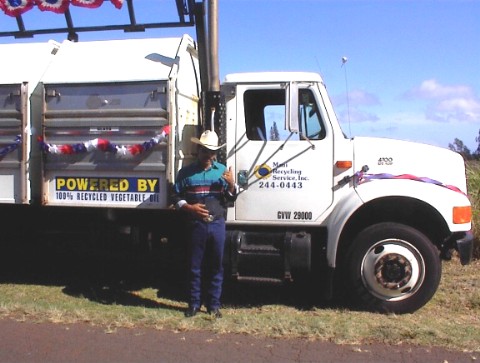 At the Makawao Rodeo Parade, July 2001, where we won first place in commercial entry.
Look below for pictures of Rubens picnic in 2004!
Shaun Stenshol
OWNER and PRESIDENT


Shaun actually works all aspects of the business.... routes, office, Customer Service, etc...
He has been with the company since 1997
and is responsible for putting the company on the path to 100% sustainability and zero waste...
Besides his recycling efforts, he switched the company to using 100% biodiesel and tree-free paper...he started Bio-Beetle Rentals... etc...etc...
Pamela Miedtke-Wolf
Vice President

Pam joined us from the other fringe state, Alaska in November, 2002 and assists with everything from Customer Service to routes, bin maintenance and website upkeep... She strives towards zero waste in her life. She loves snorkeling and kayaking, vegan cooking, and started Save An Animal.org
DRIVERS


Cy
Sickra
BASEYARD HELP
CyBrian
James